Excursions
This post is also available in: ItalianoEspañol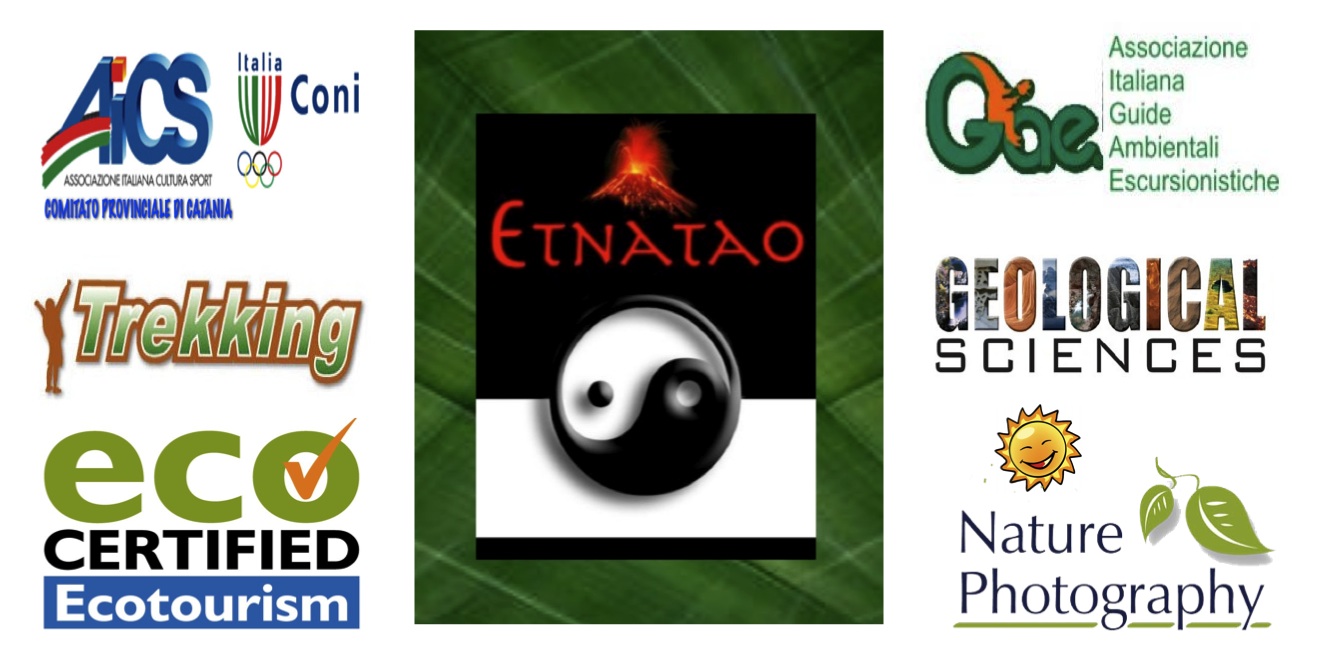 Hiking Etna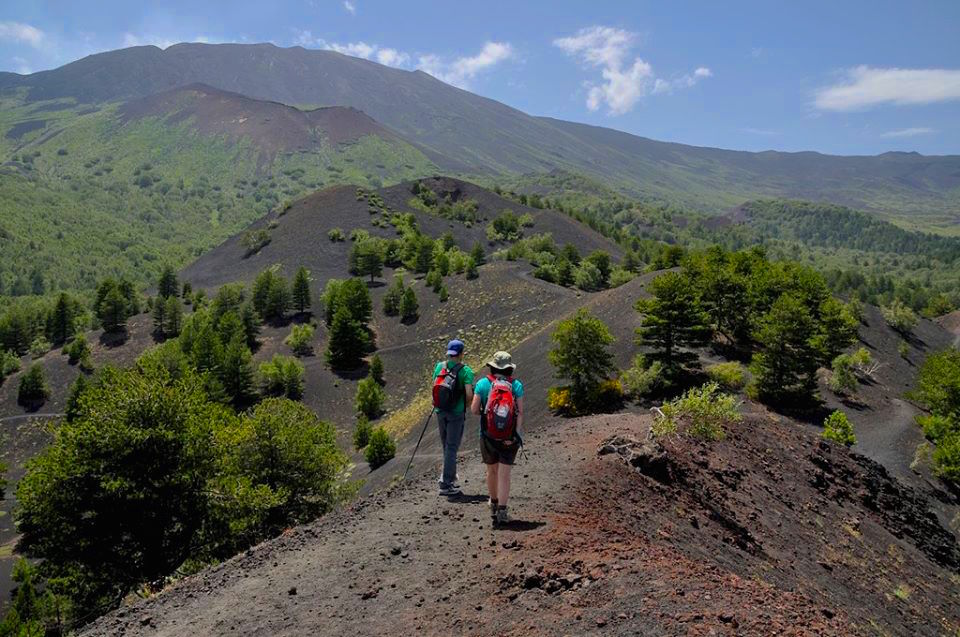 The park of Etna covers approximately 1,600 km2 and this vast territory is crossed by a large network of trails. This volcano is a hiking paradise because it offers a large number of trails with a variety of features, of altitude gaps, lengths and degrees of difficulty, therefore it is able to meet the needs of all nature lovers, from the most advanced trekkers to beginners and families.
Our association offers naturalistic excursions that give the opportunity to our members to get to know the beautiful areas of this park, far away from mass tourism and from the crowds, places full of harmony in which time seems to have stopped and where the volcano reveals its most primordial nature .
Choosing the side of Etna the altitude and the trail
Etna is more than 3300 meters high above sea level. Its size and the fact that the Etna is a very high mountain between much lower ones, gives the meteorology a marked variability .
In our work we constantly follow the weather forecast, but it's the same morning of the excursion that is decided which side we will direct and which trail we are going to choose and which altitude we will reach. We do so in order to make our walking tours in places where there seem to be better conditions and to try to choose for the group of that specific day, a path that all may tread safely and with ease, factors that contribute greatly to the success of a hike.
Within the proposed paths are not included those that lead to the top of Etna.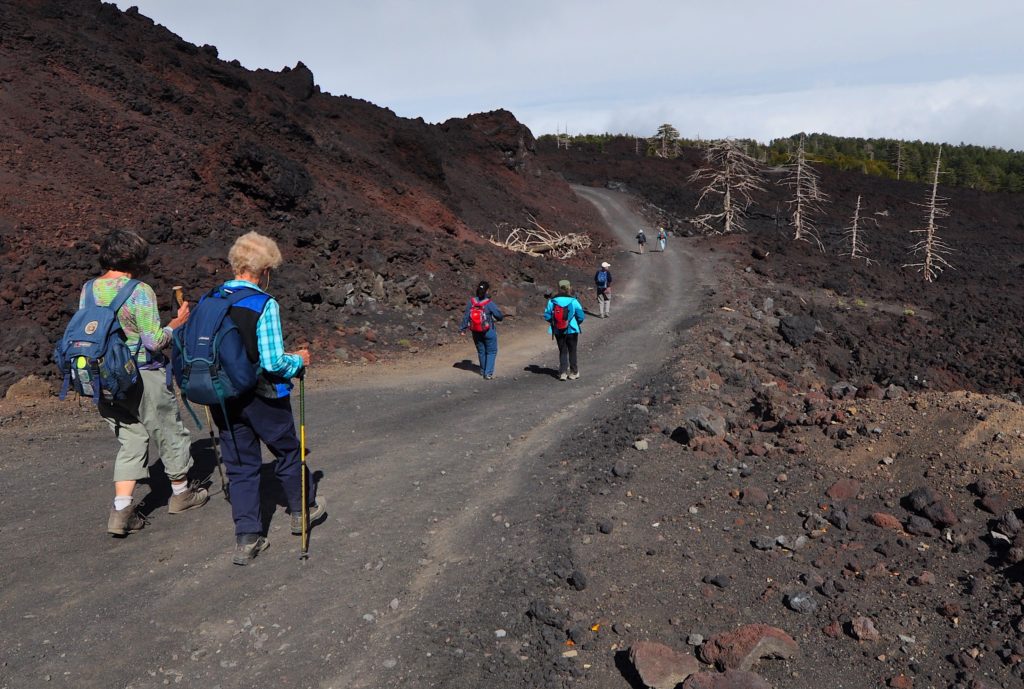 Landscape of the park of Etna 
Following the paths you will get to know gradually the landscape of the park, but the work of the guide is also to provide informations about the naturalistic features of Etna, which give the participants a chance to put together all these details, as if they were pieces of a mosaic, to be able at the end to have a broader and deeper "experience" of this extraordinary place .
The landscape of the park is unique and extremely charming. Etna alternate mainly two types of landscape, the areas covered by recent lava flows that have a rocky and barren landscape and the green areas where the vegetation, after hundreds of years, has managed to regain and colonise ancient lava fields and craters. Two faces of nature are therefore revealed that often are showed side by side in a beautiful and surrealistic contrast. This landscape is defined "the dynamic landscape" because this powerful and very active volcano is like a living organism that changes continuously with the superimpositions of lava products, with the growth of new craters and for the destructive actions of moving lava flows.
Hiking equipment
Due to the characteristics of the meteorology of the park it is always advisable to carry always a waterproof jacket and different layer of clothes. Those trousers made ​​of synthetic fabric that can be transformed into shorts are indeed very practical. Hiking shoes are ideal for trekking, providing a good grip allowing to walk safely even on steep and rocky trails. If you do not have those at least it is recommended to wear sturdy athletic shoes with a good rubber sole. For your safety the excursion cannot be done with sandals or other kind of open shoes. It is also suggested to bring a hat, sunglasses, a sunscreen lotion, a bandana and a 20-30 litres backpack that can hold water bottles, sandwiches, camera and some extra clothing that is always advisable to bring along. 
Length of excursions
An excursion usually starts at 9 am and ends around 4 in the afternoon. During the first part of the day we will cross the park doing stops focused on the description of various aspects of the ecosystem of Mt.Etna. Eventually we will reach the starting point of the trail chosen for that specific day and the hiking part begins. The actual hours of walking are about 3 with several descriptive breaks and a more extensive lunch break, a kind of physical activity that most of the people can do with no problems. We choose trails than can be shortened or lengthened in order to adapt to every type of hiker.
Our aim is to offer an enjoyable day in an extraordinary natural environment in which you can realise both a hiking activity and a cultural activity focused on discovering, with help of a geologist, the various and interesting naturalistic features of this beautiful volcano.
"I do not think I shall ever forget the sight of Etna at sunset; the mountain almost invisible in a blur of pastel grey, glowing on the top and repeating its shape, as though reflected, in a wisp of grey smoke with the whole horizon behind radiant with pink light, fading gently into a grey pastel sky. Nothing I have seen in art or nature was quite so sublime."  Paul Theroux